'Physical activity is critical for children's quality of life'
One thing that most families learn at some point – particularly during lockdown – is that balancing a child's screen time with physical activity isn't an easy task.
Although research and parental guides tell us that time on screens, sleep and physical activity all affect a child's health and wellbeing, busy lives and responsibilities often get in the way of best intentions.
Most previous research has focussed on the benefits of screen time, sleep and physical activity and their separate impacts on child health, but we wanted to understand how these three activities interact within a 24-hour timeframe and how their associations differ across age and social groups, say the University of Melbourne's Associate Professor Kim Dalziel, Dr Li Huang , Dr Natalie Carvalho and Xiuqin Xiong.
Many countries around the world including Australia, have joined the World Health Organization (WHO), to introduce 24-hour movement guidelines for children, including recommendations about the healthiest mix of physical activity, screen time and sleep.
These 24-hour guidelines are supported by research and shift the emphasis away from the activity itself to how children's sleep, screen use and physical activity influence each other. For example, time spent on physical activity has its own health benefit, but it may also reduce screen time and improve sleep.
'Balancing physical activity with screen time'
Understanding time use for child health is now more important than ever when COVID-19 response strategies that have been necessary to curb the spread of the virus. These have restricted children's usual routines and physical activities through school closures and, for example, often increasing opportunities for use of recreational media due to more time indoors.
Our new study looked at how well children aged 2 to 15 years of age adhered to the Australian guidelines and explored how meeting the recommended 24-hour movement guidelines is associated with health-related quality of life. The study participants belonged to a large representative sample known as the Longitudinal Study of Australian Children (LSAC).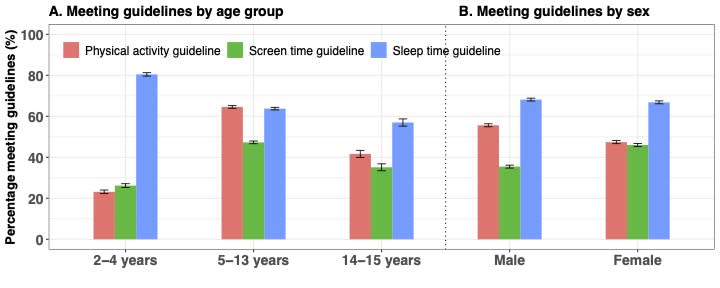 Each family used a diary to accurately record the time spent on each activity. A widely used and validated questionnaire called the Pediatric Quality of Life Inventory™️ (PedsQ™️) measured children's health-related quality of life, a multi-dimensional concept that usually includes physical, mental, emotional, and social functioning.
We found that children aged between two and four years of age spend an average of two hours per day on recreational screen time such as watching TV, using a computer or other gaming devices. This exceeds the guideline which recommends no more than one hour per day. Only around one in four children met the recreational screen time guideline.
For teenagers aged 14 to 15 years, recreational screen time like playing games, watching TV programs and spending time on social networking sites averaged 3.7 hours per day, exceeding the recommended guidelines of no more than 2 hours per day.
'Physical activity is the aspect of time use that matters most'
Only 35 per cent of teenagers met the screen time guideline. Excessive use of digital media or screen time has been shown to reduce physical, mental, social and brain health. Impacts of high use include poor sleep, a higher risk of heart disease later in life, higher stress, eye problems, unhealthy bones and mental health problems.
Teenagers aged 14 to 15 years participated in moderate to vigorous physical activity for an average of 1.1 hours per day. However, only 41 per cent of children met the physical activity time guideline of 1 hour per day. This is concerning because physical activity is linked to good physical, mental, social and brain health for children especially if the activity is moderate to vigorous intensity.
In the 2 to 4-year-old age group, 20 per cent of children didn't meet the sleep duration guideline, which increases to 43 per cent in teenagers aged 14-15 years. Insufficient sleep is associated with poor health outcomes such as the risk of obesity, emotional problems, slower growth and a higher risk of injury.
On a positive note, meeting the 24-hour movement guidelines was associated with better quality of life for children of all ages.
The effects of the three components of the 24-hour movement guidelines differ. But physical activity is the aspect of time use that matters most to children's quality of life across all age groups.
This is because physical activity helps improve quality of life and builds social connections and self-esteem as well as probably simultaneously reducing screen time and improving sleep. The benefits of physical activity for children are both direct and indirect.
Parenting is hard and it might seem difficult to encourage children equally in all aspects of the 24-hour movement guidelines. Screen time, physical activity and sleep are all important to children's quality of life.
The latest National Child Health Poll in Australia showed that the number one health concern for parents in 2021 is 'Excessive screen time'. 'Not enough exercise' was also one of parents' top ten concerns.
'Improving health and well-being'
If parents wanted to focus on a top priority, they might want to encourage increased physical activity. Meeting the recommended amount of physical activity per day could be the best way to improve wellbeing and might also have the added bonus of reducing children's screen time and improving their sleep.
Associations between children's use of time and their quality of life differ by age. For example, for 2 to 4 year-olds, none of the three guidelines can be neglected. It was only when all three guidelines were met that higher quality of life was seen.
The relationship between children's use of time and their quality of life was stronger in teenagers aged 14-15 years.
The quality of life difference between children aged 14-15 years who did and didn't meet the guidelines was large enough to be important to their immediate health. This finding is based on other research that has defined clinically meaningful cutoffs, a score indicating an at-risk status for impaired quality of life, relative to the general population.
A study using data before and during the COVID-19 pandemic in Germany showed that sports activity declined and recreational screen time increased.
Although habitual physical activities such as going for a walk increased during the lockdown, this cannot offset the decrease of sports activity in adolescents (aged 14-17 years), especially given the importance of moderate to vigorous activity.
At the same time, recreational screen time increased most significantly among adolescents. The negative effects of the lockdown were stronger for adolescents, compared to young children. Like Australia, Germany implemented a similar lockdown policy, where schools, gyms, sports clubs, and organised physical activities for children were closed. Non-organised physical activities like jogging were allowed, so we will likely see similar results to this study in Australia.
'Screen time increased among adolescents'
For children from low-income families, guideline adherence was poorer compared to children from higher-income households, however, the good news was that quality of life improvement associated with meeting movement guidelines was higher.
On the other hand, the risk of decreased quality of life associated with not meeting the guidelines is also greater. The reason is not clear, but it highlights the importance of a possible interaction between family income and children's time use for improving equity in the quality of life of Australian children.
During both pandemic lockdowns and after, these findings have important implications for parents, policymakers and relevant stakeholders seeking to promote child health and quality of life through healthy use of children's time.
Authors: Associate Professor Kim Dalziel, Dr Li Huang , Dr Natalie Carvalho and Xiuqin Xiong.
This article was first published on Pursuit at the University of Melbourne. Read the original article.