Promoting health in schools: Old ideas, new opportunities
Milk is a good source of calcium and protein - both important for children's healthy bone development. Picture: iStock
The idea of health-promoting schools is not new. Defined by the World Health Organization (WHO), these are schools that are "constantly strengthening their capacity as a healthy setting for living, learning and working" for all members of the school community.
The concept recognises that health and wellbeing are linked with learning and engagement.
Healthier students learn better, more educated students lead healthier lives and all students and staff can benefit when schools become healthy learning communities, say Dr Monika Raniti, Dr Ruth Aston and Professor Susan Sawyer.
In practice, this means that in addition to schools addressing the specific learning and living needs of children dealing with things like ADHD, anxiety or diabetes, that a school's breakfast program, for example, is also recognised as a strategy for student learning, as well as health.
Or that the homework club not only has a direct benefit for learning, but also helps reduce socio-economic disparities that will influence both learning and health outcomes.
It means that the wider cultural and sporting activities of a school also provide opportunities for student learning and leadership that equally influence health and wellbeing – now and in the future.
At schools like this, efforts to support health and wellbeing can be seen in every aspect of school life – from classroom teaching and school leadership decision-making, all the way through to facilities management.
Over the past 25 years, global interest in health-promoting schools and similar whole-school approaches has grown, including here in Australia. The evidence of benefits include educational engagement and many different aspects of student health – like improved physical activity, eating the right amounts of fruit and vegetables, as well as social and emotional wellbeing.

But decades after health-promoting schools was first launched by the WHO, there's still a major gap between the ideal of health-promoting schools as originally envisioned and the current reality.
As an overarching concept, health-promoting schools has struggled to get sustained traction. Few high-income countries have truly taken the idea to scale and it's arguably even more challenging in resource poor settings, whose students potentially have the most to gain.
So why does this 'implementation gap' still exist and what can we do about it? Our collaboration of health and education researchers at the University of Melbourne and Murdoch Children's Research Institute have been working to answer this question.
A system of health promotion
As part of WHO and UNESCO's initiative of "making every school a health-promoting school", we conducted a systematic review, global policy review, and developed case profiles of eight low and middle-income countries.
Our research identified many common barriers to the implementation and sustainability of health-promoting schools worldwide.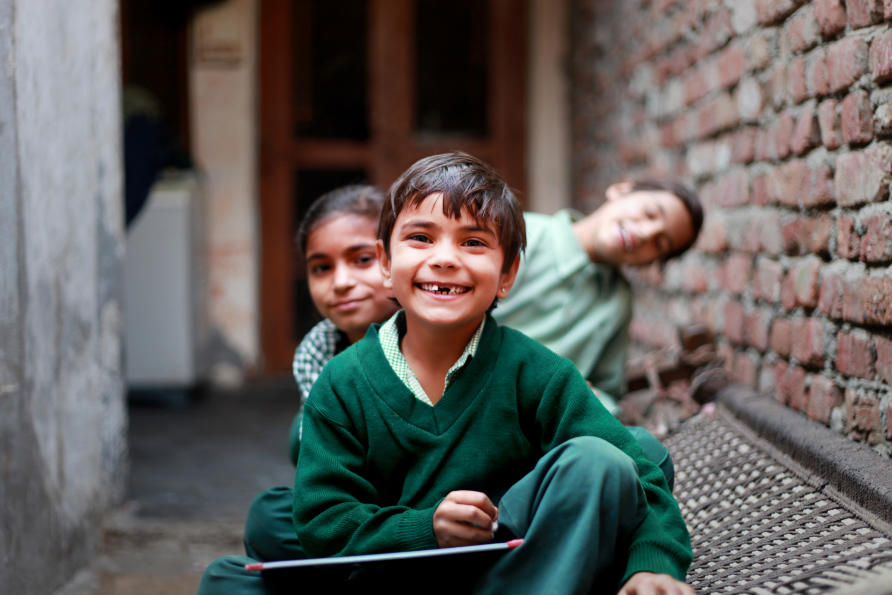 For example, within schools, there was often reliance on one enthusiastic teacher to implement health promotion, who may not always be supported by wider school policies and leadership.
And within governments, education standards and policies often failed to address student health and wellbeing from a whole-school perspective, and vice versa.
Based on our findings, and those of others, as well as multiple rounds of public consultation, we then led the development of WHO and UNESCO's new Global Standards and Indicators for Health-Promoting Schools and Systems, and Implementation Guidance.
The Global Standards are intended to serve as an organising framework to primarily guide governments and policy makers to support sustainable and scalable health-promoting schools that can adapt to specific contexts, including in low resource settings.
LIVING, LEARNING AND WORKING
'Health-promoting schools' is a whole-school approach which capitalises on the organisational potential of schools to foster the physical, social-emotional and psychological conditions for health and wellbeing, as well as for learning and positive education outcomes.
There are eight Global Standards that define how this can be achieved, ranging from investing in resources, through to embedding health promotion across the curriculum and enabling school-linked health services.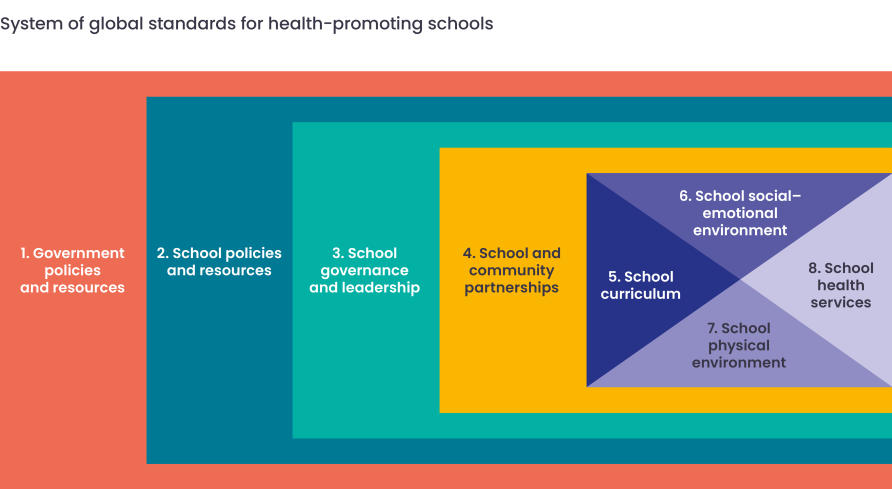 The key messages of the Global Standards and Implementation Guidance include the need for strong governance systems within education departments, policies and leadership at government and school levels, active collaboration between the health and education sectors, investment in school staff training and capacity building, adoption of a consistent data-driven approach to implementation, and genuine engagement with students, families, and their local communities.
For example, to support mental health, a school may choose to implement a government-funded mental health program, like an anti-bullying campaign, in conjunction with a school policy stating that bullying is not tolerated in the school community and outlines appropriate responses from students, teachers, and parents.
Teachers may be trained to recognise students in distress and refer them to be formally assessed by school-linked health services – like psychologists, nurses or community groups.
Schools would also have a health curriculum that promotes social-emotional learning and wellbeing, alongside mental health literacy across different subjects, such as the choice of books, films and other resources that might be studied in English.
In terms of the broader school community, schools can ensure that interactions between students, families and staff members are respectful and supportive, and that the physical environment of the school does not contain 'hidden' areas where bullying may occur.

In this way, a school can work towards embedding emotional health and wellbeing into all aspects of school life in a way that continually responds to the needs of their students and the school community.
Beyond student mental health and wellbeing, schools face the same challenges for multiple other health themes, including sexuality, nutrition and physical activity.
THE IMPACT OF COVID-19
School closures and learning disruptions associated with the COVID-19 pandemic have clearly emphasised the value of schools – not just as places of learning, but as communities within which social and emotional wellbeing is generated.
Emotional distress and mental health problems in children and adolescents have increased during the pandemic, with concerns that these students are also at increased risk of permanently disengaging from education.
Even in high-income countries like Australia, despite investment in the provision of mental health services over the past decade, the prevalence of mental disorders in young people has not decreased.
So, in addition to services, investment in prevention and population-health approaches, like health-promoting schools, that address social and structural factors are equally critical to reducing the burden of mental health problems in children and young people.
Individual schools cannot sustain health-promoting schools by working alone.
The United Nation's vision to "make every school a health-promoting school" is a continuous one that requires a strong system of governance, investment in capacity building, productive inter-sectoral collaboration and a deep appreciation of the links between health and education.
However, the benefits for students, their families, communities and the next generation are well-worth the time and money.
This article was first published on Pursuit. Read the original article.
Banner and images: Getty Images