Community schools in Egypt: lessons on what works, and what doesn't
Community schools reach otherwise unschooled children. Ray Langsten
The 'community school' model in Egypt is no longer confined to just rural areas and can increasingly can be found in larger population areas. Despite this expansion though, all such schools need to work harder to provide a quality education, says Ray Langsten, of the American University in Cairo
Many countries across the world have made promises of "education for all" – providing quality education to all children of school-going age.
One approach being used to meet the education for all goal is community-based education, or community schools. These alternative education models, initiated by governments and non-governmental organisations, provide primary education in communities that generally lack school infrastructure.
The schools are typically small, organised by a community and the instructors are often locally recruited without formal teaching credentials. The curriculum is simplified and locally-relevant – for instance in the language people actually use, dealing with problems students confront in their daily lives.
Community schools are said to play an important role in providing an education for all because they reach otherwise unschooled children. They have a child-centered, active-learning approach that's acceptable to local communities. Many positive results have been reported across the world, including in Bangladesh, Ghana and Columbia.
While it's hard to say how many community schools there are in countries worldwide, Egypt is one country that actively developed community based education. Although community schools in Egypt provided valuable educational opportunities, over the years the programme has changed. There are now questions as to whether it continues to fulfil the role for which it was originally intended.
Egypt case
Community-based education in Egypt was first tried in the 1970s. That experiment failed. About 20 years later, UNICEF began a new program with 300 community schools in three upper-Egyptian governorates (states). The schools were to be set up in settlements of 1500 – 2000 people, at least 2kms from the nearest government school and where there were at least 50 out-of-school children. The community should agree to participate in setting up and managing the school. The schools would have flexible hours and a curriculum relevant to the local environment.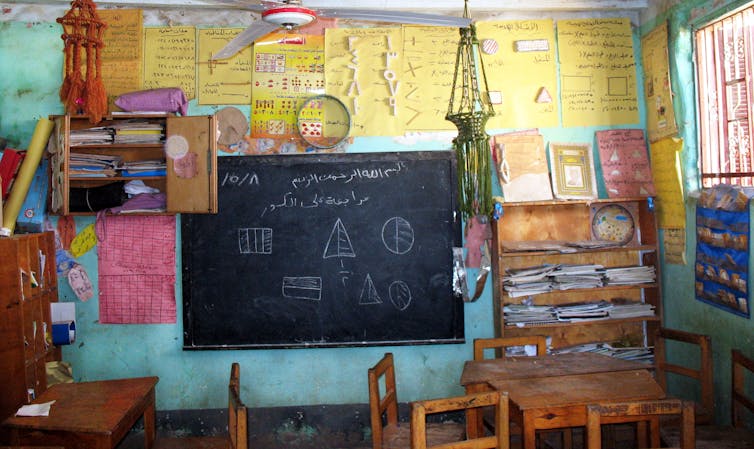 The aim was to serve children, particularly girls, who had never been to school or who had left school and wanted to return. They typically lived in isolated hamlets without proper access to an education. The schools were meant to be transformative, empowering students to be independent thinkers and supportive of progressive social change —- like the elimination of female circumcision and early marriage —- in their communities.
After the project's first year, all students in the first four community schools successfully passed that year of study. This convinced policymakers of the value of the model.
In 1993 high level government officials established the one-classroom school initiative, a plan to build 3,000 community schools in rural villages. Supported by UNICEF, USAID and other development agencies, the community school model spread quickly throughout Egypt.
Today, about one per cent of all primary school students study in community schools. About 10% of primary students attend private schools, with the remaining 89 per cent of primary students attending regular government schools.
Since the programme began, there have been 13 evaluations of its quality. With the exception of one study, these assessments reported a high level of teacher (facilitator) performance and student achievement, especially in areas like empowerment and self-motivation. The graduates of the community schools are said to become teachers, doctors, and engineers.
My research questions this optimistic view.
Caution
The community schools model as it has expanded and changed in Egypt must be approached with caution. My research shows that though there remains a need for a well designed community-based education programme, the current model isn't fulfilling its obligations to enrol students from the stated target population, and educate them well.
Ten years ago all community schools were put under government control, which brought major changes. Today, rather than being in small, isolated villages, many are located in large communities, often close to regular government primary schools. They now receive little support from the community, the teachers/facilitators are ministry of education employees and, instead of following a simplified, locally relevant curriculum, they follow the standard one.
Questions have started to be raised about the childrens' learning outcomes.
My recent work found that the core academic skills of government school students, though weak, are significantly better than those of community school students. This is probably as a result of poor teaching. The facilitators in the community schools lack university degrees, are poorly paid, and don't have the skills to teach effectively.
Among preparatory (middle) school students, even after two years of studying with students from government schools, former community school students continue to have significantly worse core Arabic and math skills. This reflects deficiencies experienced during their primary school years, and the failure of the preparatory schools to remedy these deficiencies. Again, poor teaching is most likely the root of the problem.
I also found girls' attitudes, for instance about the desired level of educational attainment, appropriate age at marriage and level of empowerment differ little by the type of school they attend. That is, community schools aren't bringing about the social change they promised.
Research also shows community school students have lower transition rates to preparatory and secondary school. This suggests they have difficulty moving from the informal community school environment to a more structured one.
Way forward
Community schools can play a valuable role in providing an education for marginalised students – like girls in Afghanistan or Somalia – or where populations are widely scattered.
In Egypt, when the community schools project began, girls (especially those from poor families) suffered from low primary completion rates, and were severely disadvantaged relative to their brothers. However, by 2014, 92 per cent of all Egyptian girls, and even 87 per cent of girls from poor families in disadvantaged areas, completed primary school. They had effective gender equality with boys from the same background. Community schools therefore need to rigorously target those students currently failing to enter or complete primary education. In addition, all Egyptian primary schools, and especially community schools, must redouble their efforts to provide a quality education.
This article is republished from The Conversation under a Creative Commons license. Read the original article.